I purchased a sign from Kirkland's online that spoke to me.  Not the same way as the things speak to shoppers in the Pier 1 ads, but the same in theory.  When I see something that resonates with who I am, I buy it.  Well, that isn't 100% true.  A convertible Mercedes resonates with who I am, but doesn't resonate with what I make – hence, I don't always buy everything that resonates with who I am.
The point was the sign from Kirkland's online – it resonated and as such I purchased it.  It arrived today with a few other items that resonated.  I must digress ever so briefly though to say that Kirkland's has the best product protection packaging for shipping I have ever seen (and note, I shop online a lot).  If you ever have to ship heirloom china around the world you want Kirkland's to do the shipping for you.
But back to the sign – here it is.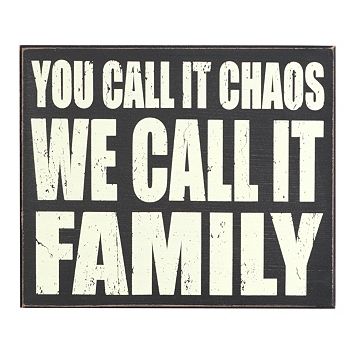 Oh, yes…this sign was made for me and the crazy group of people I call family.  When I saw it I was tickled pink – well, not literally, as being tickled pink does not sound pleasant.  Perhaps it is better to say I was very pleased.  I was pleased that someone out there understood that there is beauty in the chaotic elements a family can possess.  I felt validated and supported by the sentiment.  As I said, it spoke to me.
I am on a purge cycle in my life presently.  The only things that get to stick around are the things I need and the things that mean something special to me.  This new sign means something to me.  It serves as a reminder to all that we embrace our nutty, loud, rambunctious clan…and, that we are not alone in appreciating such a family unit.  Clearly, there are others like us, after all – we have a sign. 
Day one thousand two hundred and eighty-five of the new forty – obla di obla da
Ms. C