I applaud Rosea Lake today for delivering a statement about judgment. Rosea is the college freshmen (all of 18 years old) who posted a photo on Tumblr she took for an AP high school art class in her senior year that illustrates judgments people make based on the length of a woman's skirt.  The photo has gone viral and received national attention.
It is a simple, but powerful, photo that captures a truism in regard to behavioral judgments based on attire. Rosea's photo shows the back of her friend's legs marked with various skirt lengths and the judgments attached to each length.  I dare say that both women and men have labeled women in their mind based on these very same measurements.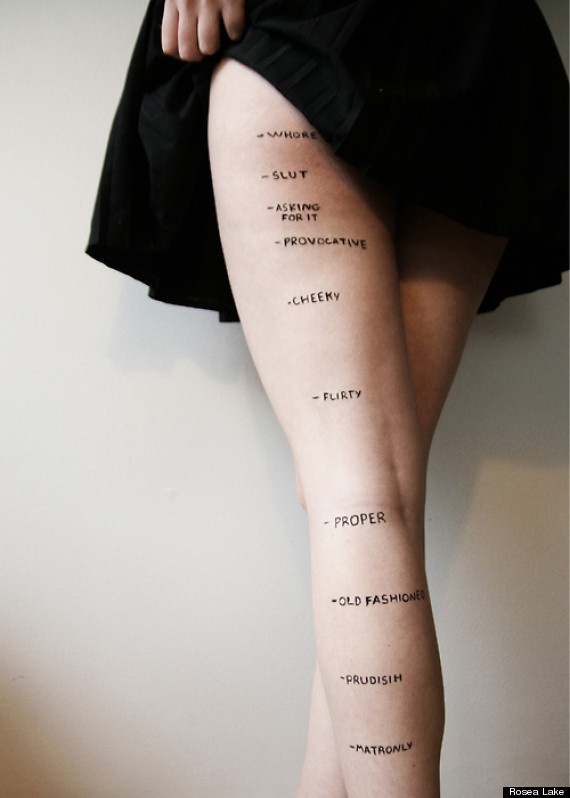 Food for thought in a day and age where so many judgments can be made just by looking at photos on social media.  I can tell you that I personally regularly dwell in the land of flirty-provocative and I have for years.  Sure, I had a prudish and old-fashioned period there somewhere in the mid-eighties, but ever since then my hemlines have rarely glanced a knee.  What does this say about me?  Have my behavior and morals gone downhill or were the mid-eighties an anomaly of good behavior?  Or was I following the fashion times?  Or perhaps I was just wearing what I like as I see fit? Are you sure by looking at the length of my skirt that you can judge me accurately?
Thank you Rosea for giving us all something to think about.  Perhaps your next photo project can look at underwear and tell us what judgment comes with different varieties of male and female underwear.  I could go on for weeks about that.
Day one thousand two hundred and ninety-six of the new forty – obla di obla da
Ms. C